Contenus
Image
Image
Nom
2022 02 15_saint_sorlin_arves_village_neige_116 © OT Saint Sorlin d'Arves - V Bellot-Mauroz-1.jpg
Texte
L'Office de Tourisme de Saint Sorlin d'Arves doit s'interroger sur son aptitude à trouver des réponses efficaces et traçables, à œuvrer pour le développement touristique, pour garantir une qualité de service constante, indissociable de l'image et de l'attractivité de la destination.
La démarche Qualité est à ce titre précieuse, en termes de management pour l'ensemble du personnel. Il s'agit de prendre le temps de la réflexion sur nos métiers, la recherche de solutions adaptées et la quête d'une amélioration constante.
L'Office de Tourisme de Saint Sorlin d'Arves, est labélisé Marque Qualité Tourisme depuis 2017. Il est classé en catégorie I depuis 2018, appartient au réseau des Offices de tourisme de France.
Contenu
THE QUALITY SYSTEM OF THE SAINT SORLIN D'ARVES TOURIST OFFICE
1- Classification and commitments of the Tourist Office of Saint Sorlin d'Arves
The Saint Sorlin d'Arves Tourist Office must question its ability to find effective and traceable answers, to work for the development of tourism, to guarantee a constant quality of service, inseparable from the image and attractiveness of the destination.
The Quality approach is therefore invaluable in terms of management for all staff. It is a question of taking the time to reflect on our professions, the search for adapted solutions and the quest for constant improvement.
The Saint Sorlin d'Arves Tourist Office has been awarded the Qualité Tourisme label since 2017. It is classified in category I since 2018, belongs to the network of the Offices de tourisme de France.
2- Your opinion is important to us!
We take special care of the opinions expressed by visitors to our resort.
Don't hesitate to send us your suggestions on the social networks:
3- Do you have a complaint?
To ensure that your opinion is taken into account as effectively as possible, we invite you to contact us directly.
Your complaint will be sent directly to the department concerned and to the Tourist Office management. The analysis of this feedback allows us to define actions for improvement.
4- Sustainable development
At the Tourist Office level
The team at the Saint Sorlin d'Arves office is committed to a sustainable management approach for the structure. A charter of eco-responsible actions has been drawn up for this purpose:
Managing communication media
Manage the distribution of communication materials
Encouraging respect for the environment
Common gestures to save energy and water
Encourage the purchase of energy and water saving equipment and products with an environmental or ethical label or certification
Sorting waste
Print sensibly
Encourage, as far as possible, dematerialised meetings
Practise rational management of business travel
In Saint Sorlin d'Arves
At the commune level, various actions are also carried out to promote sustainable development in the area:
Waste management and sorting (semi-buried containers with compartments for selective sorting/glass/household waste, Arves waste centre)
Setting up public transport (buses in winter and small trains in summer)
Provision of charging points for electric bikes
Insect hotel near the church
Raising awareness of wetlands: the Wetlands Trail is accessible in the Col de la Croix de Fer area with various thematic observation panels
At the village's professionals
On the professional side, various measures have been implemented.
For example, for the Les Cèdres establishment: planting of Cedars of Lebanon, creation of a vegetable garden, fight for biodiversity and for LIFE, but also for the ski lifts: implementation of a Tétras-Lyre tranquillity zone in the mountains.
The actions implemented by each professional can be seen on the pages of their establishments on our website, in the "Sustainable Tourism" category.
Texte
L'équipe de l'Office de Saint Sorlin d'Arves s'est engagée dans une démarche de gestion raisonnée de la structure. Une charte des gestes écoresponsables a été rédigée à cet effet :
Gérer les supports de communication
Gérer la diffusion des supports de communication
Inciter au respect de l'environnement
Gestes courants pour économiser l'énergie et l'eau
Favoriser l'achat d'équipements économes en énergie et économes en eau, et de produits ayant obtenu un label ou une certification environnementale ou éthique
Trier les déchets
Imprimer de manière raisonnée
Favoriser, dans la mesure du possible, les réunions dématérialisées
Pratiquer une gestion raisonnée des déplacements professionnels
Image
Image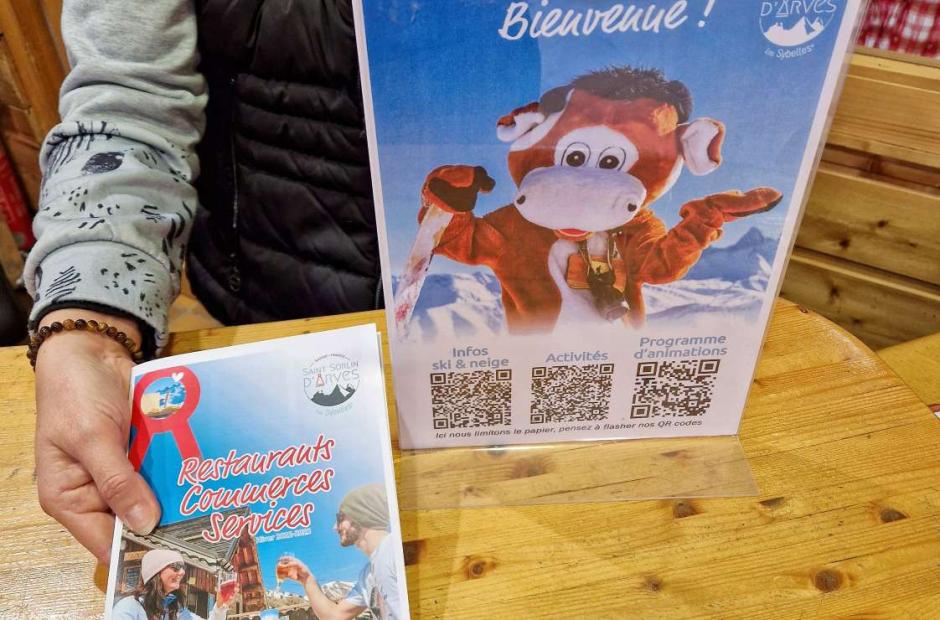 Nom
2023 01 23 documentation OT-1.JPEG
Contenu
Au niveau de la commune, différentes actions sont également menées pour favoriser le Développement durable sur le territoire :
Gestion et tri des déchets :

Depuis le 1er janvier 2023, le tri des déchets st simplifié en Maurienne : pots de yaourt, de crème, barquettes, tubes de dentifrice, films plastiques, emballages de charcuterie, sachets de chips, blister… vont désormais tous dans le conteneur jaune.
A compter de cette date, comme partout en France, une seule question à se poser : mon déchet est-il un emballage ou un papier ?
Oui → Je le mets dans le conteneur jaune
Non → Je le mets dans le conteneur d'ordures ménagères
En collaboration avec le SIRTOMM (Syndicat Intercommunal de Ramassage et de Traitement des Ordures Ménagères de Maurienne), la Commune a amélioré le ramassage des ordures ménagères en mettant en place des containers semi enterrés destinés au tri des ordures ménagères des particuliers : ordures ménagères, verre, plastiques et emballages. Une collecte des cartons chez les commerçants est effectuée par les services techniques durant les saisons d'hiver et d'été : 2 fois par semaine en hiver et 1 fois par semaine en été. Cette opération est très appréciée par les commerçants et évite le remplissage des containers semi-enterrés par les cartons.

La déchetterie a été déplacée sur la commune de St Jean d'Arves à côté de la station-service. Elle est désormais gérée par le SIRTOMM. Elle est ouverte 3 après-midis par semaine les mardis, jeudis et samedis de 14 h à 17 h de début avril à mi-décembre et 1 après-midi par semaine les jeudis de 14h à 17h  de mi-décembre à fin mars. Les déchets acceptés sont variés : ferraille, encombrants, bois, papier, cartons, gravats, plâtre, déchets verts, pneus… Cette mini-déchetterie est gérée par le SIRTOMM et contribue à l'élimination des déchets sauvages dans la nature et autour des habitations.
Image
Image
Nom
2022 02 15_saint_sorlin_arves_village_neige_21 © OT Saint Sorlin d'Arves - V Bellot-Mauroz-13.jpg
Texte
Mise en place de transports en commun :

Afin de faciliter les déplacements des habitants et de nos visiteurs, le Syndicat Intercommunal des Arves (SIVOM des Arves) en collaboration avec la commune a mis en place un service gratuit de transports en commun (bus) pendant les saisons d'hiver afin de diminuer les déplacements en véhicules individuels. Durant les saisons d'été, la commune de Saint Sorlin d'Arves met à disposition des visiteurs et des habitants des petits trains touristiques.

Mise à disposition de bornes de recharge pour les vélos électriques :

1 borne située devant l'Office de Tourisme et 1 borne au Col de la Croix de fer.
Contenu
Respect de l'environnement local :

Hôtel à insectes implanté à l'entrée du village (rond point de l'Eglise)
Fleurissement communal : arrosage raisonné et maîtrisé avec choix des végétaux suivant leurs besoins en eau et leur résistance aux conditions climatiques et à l'altitude.
Entretien fleurissement : le paillage est favorisé pour limiter l'apport en eau, garder l'humidité et lutter contre les mauvaises herbes. Démarche zéro phyto, fauchage raisonné et désherbage manuel.
Zone de compost créée au sein de la commune : le compost est utilisé par les services techniques et mis à disposition des habitants.

Sensibilisation aux zones humides :

En collaboration avec le SIVAV, un sentier à thème a été réalisé dans la zone du Col de la Croix de Fer et permet de connaître et comprendre l'intérêt de préservation des zones humides (panneaux informatifs le long du sentier)
Toutes les informations sur www.maurienne.fr

Environnement et cadre de vie :

Maîtrise de la publicité et des enseignes : la signalétique a été uniformisée sur la commune afin de réduire la pollution visuelle
Effacement des réseaux : la plupart des réseaux sont enfouis pour une meilleure appréciation de l'environnement.
Intégration du mobilier urbain : les bancs et tables en bois installés sont en bois afin de s'intégrer au mieux dans le paysage, les poteaux et lames de signalétique sont de couleur verte.
Qualité de la voirie et des circulations : la traversée du village fait l'objet d'un élargissement avec réalisation de trottoirs et de passages protégés et sécurisés pour un meilleur cheminement.
Propreté : les agents des services techniques veillent à la propreté du village et interviennent régulièrement pour le ramassage des déchets.
Mise en valeur du patrimoine bâti : les nombreuses chapelles sont mises en valeur (fauchage et fleurissement), l'église, édifice inscrit aux monuments historiques, fait l'objet de rénovation.
Du côté des professionnels, différentes mesures sont mises en œuvre.
Par exemple, pour l'établissement Les Cèdres : Plantation de Cèdres du Liban, création d'un potager, lutte pour la biodiversité et pour le VIVANT mais aussi pour les remontées mécaniques : mise en place d'une zone de tranquillité du Tétras-Lyre en montagne.
Les actions mises en place par chaque professionnel sont visibles sur les fiches de leurs établissements sur notre site internet, catégorie « Tourisme durable ».
Texte
Zone de tranquillité tétras lyre :

Une zone de protection (3 ha) du tétras lyre et de son environnement proche est située depuis plusieurs années sur le secteur de la Balme.

Pistes freeride non damées :

Pour les skieurs, 4 pistes freeride situées à Saint Sorlin d'Arves et au Corbier sont proposées. Sécurisées, balisées, elles sont laissées à l'état naturel.

Challenge Zéro CO² :

Le domaine skiable des Sybelles s'engage dans des actions concrètes de réduction de consommation des énergies pour tendre vers une neutralité carbone en 2037.
Toutes les informations sur www.sybelles.ski
Image
Image
Nom
signaletique-zone-tetras-ssa-_vmulot-3-570x570.jpg