Contenus
Contenu
WHAT IS THE "QUALITÉ TOURISME" MARK?
The Saint Sorlin d'Arves Tourist Office team is committed to :
Image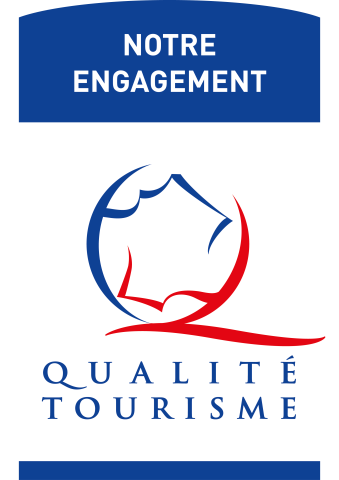 Welcoming visitors in a neat, comfortable and friendly environment, in complete safety
By offering a warm reception hall
Providing furniture to sit down and consult brochures
By providing wifi access
Guaranteeing a quality welcome adapted to each customer
A team that is available, efficient and trained in the reception profession
Reception staff who speak at least two foreign languages
Trip advisors who are attentive to your needs
Personalized advice to discover the tourist offer of the resort and its surroundings
Up-to-date information
Listening to the satisfaction of our customers
Customer complaints are forwarded to the relevant departments within 72 hours
Customer satisfaction is measured on the quality of the reception at the Tourist Office thanks to a questionnaire proposed in several languages
By raising the awareness of tourist service providers about the quality of the reception
Providing reliable, accurate and appropriate information
Reception of customers, at least 305 days a year, on Sundays and public holidays in winter and summer
A response service to letters, e-mails and telephone calls throughout the year
A free information service provided to our customers on the local tourist offer
Production of tourist guides on the resort in paper form, distributed free of charge
An internet site providing all the qualified tourist information and guaranteeing the reliability of the information in three foreign languages
Customer satisfaction, at the heart of the Tourist Office's concerns
The Tourist Office has a quality approach and has obtained the Quality Tourism Mark, which confirms its commitments to all its interlocutors: visitors, partners, socio-professionals and the community.
Within this framework, the Tourist Office has put in place human and technical resources to ensure a demanding and constant level of quality by ensuring the efficiency of its organisation and the dynamics of continuous improvement.
The Tourist Office is committed to the excellence and reputation of its destination, SAINT SORLIN D'ARVES - COL DE LA CROIX DE FER
4 MAIN OBJECTIVES OF THE TOURISM QUALITY MARK
To improve services to visitors
To improve the organisation of the tourist office
To improve internal communication
To improve communication with socio-professionals and external communication